Baia Salinedda
Restaurant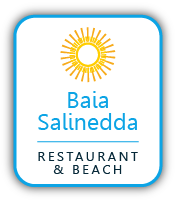 The restaurant offers for lunch and dinner a menu based on the seasonality of the products, mainly local, starting from Sardinian culinary tradition then reinterpreted and personalized by our Chef.
You can request breakfast, half board or full board.
The traditional Sardinian pasta, the fresh fish of the day and the finest picked meats make your dinner special.
We are also ready to satisfy those who prefer a vegan and vegetarian choice or those who are intolerant to gluten.
Breakfast, half-board and full-board
Italian breakfast (sweet)
16 € per adult per day
13 € per child per day
Half Board
35 € per adult per day
27 € per child per day
Full Board
65 € per adult per day
50 € per child per day
Child 3-7 years old / Adult 8+ years old
Infant 0-2 free