The beach of
Baia Salinedda
Salinedda Bay is a beautiful white beach, sheltered by Ruia island. In some periods of the year, its calm and clear sea is destination for turtles and partridges.
A path of 350 meters through the private park (no crossings, no cars) leads directly to the beach. The colours and scents of the Mediterranean scrub meet the crystal clear waters of the bay.
Residence Baia Salinedda is the only structure in the area with a fully equipped private part of the beach: chairs and umbrellas are available to customers, while a small bar situated at the entrance of the beach allows guests to have an ice creams and a soft drinks.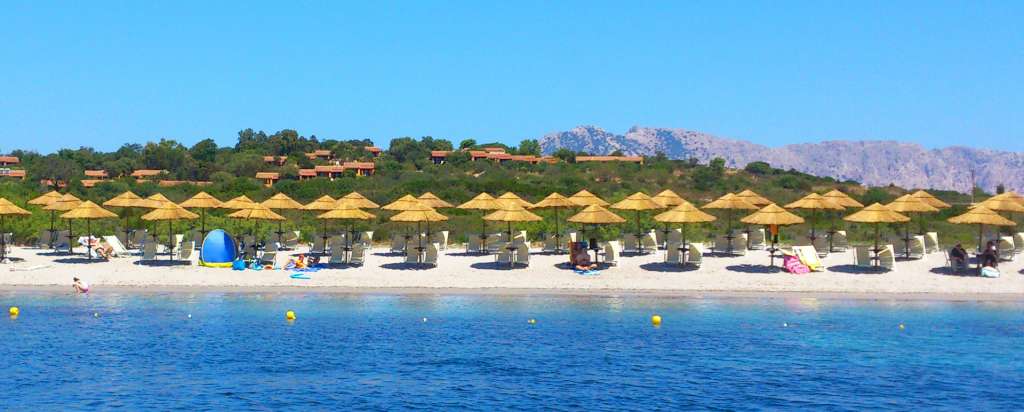 The Baia Salinedda beach is one of the most natural in the area, untouched by pollution, surrounded by Mediterranean scrub. Behind the lagoon, from April to September, you'll be able to see the beautiful stilt-birds nesting and raising their young. Please have the utmost respect and do not disturb them. Very beautiful are the wild lilies that bloom in summer on the sand dunes.
Like many others in the area, the lagoon was in ancient times a saline, where salt was extracted and dried.
Ruia island is located just off the beach front and it can be reached by swimming. In a relatively recent past, from January to April, shepherds in the area carried their sheep by boat on the island for grazing in the small patch of green.
Private Beach
Baia Salinedda is a semicircular beach about half a kilometre long. A part of it has been given in concession to the residence from the State; chairs and umbrellas are at the guest's disposal.
Restaurant
The restaurant offers for lunch and dinner a menu based on the seasonality of the products, mainly local, starting from Sardinian culinary tradition then reinterpreted and personalized by the Chef.
Swimming pool
open from April to November
heated in low season
Swimming pool 10m x 4m
Baby pool
Jacuzzi 4m x 2m